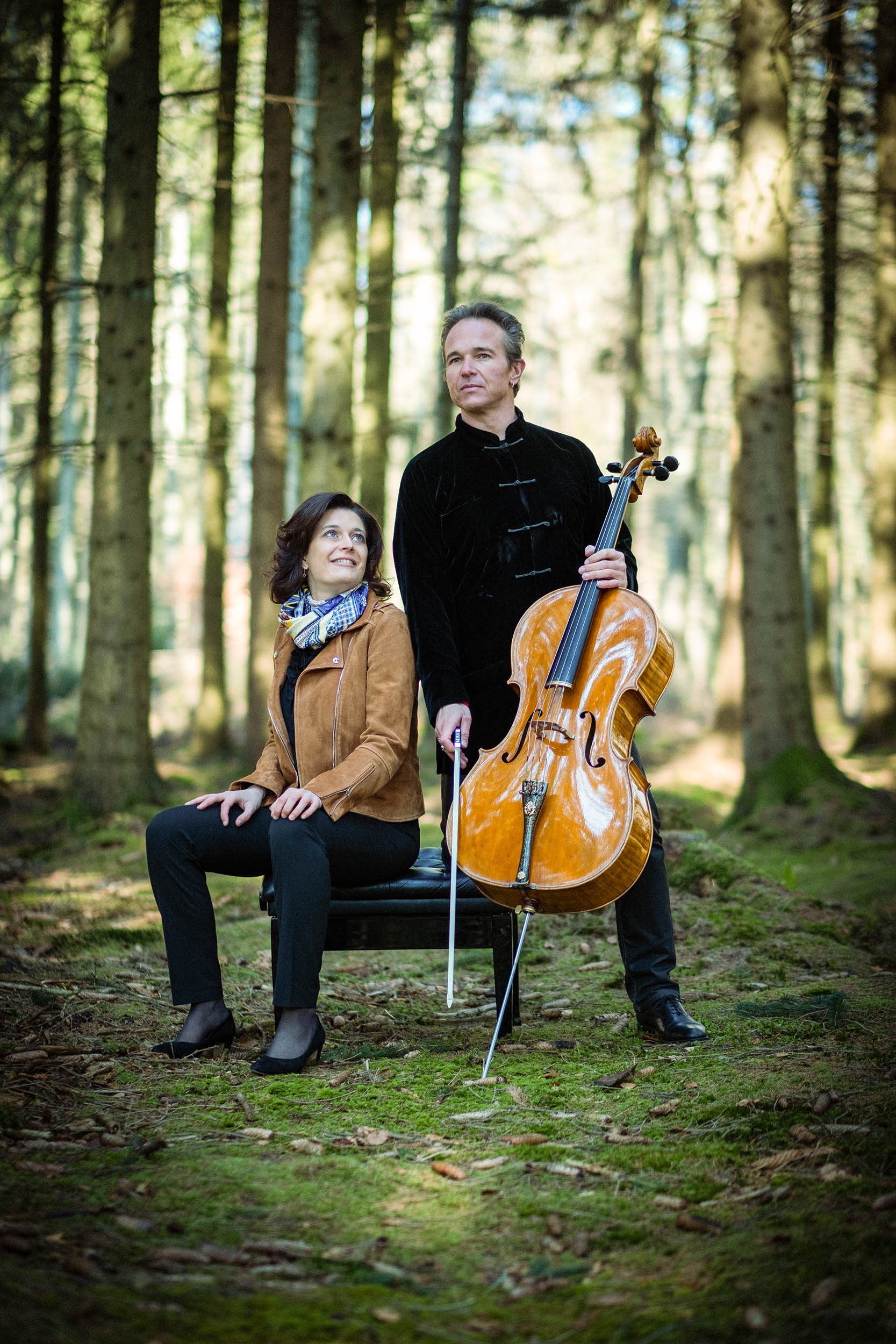 Photo: Vitùc
"There seem to be hardly any limits
to her technique, and so Sabine Weyer unleashes a veritable storm of passion
and wildness."
Pizzicato, July 1st 2021
"The brightest of a new generation of Luxembourgish pianists!"
Internationales Klaviermagazin, Jan/Feb 2016
"…a staggeringly difficult solo part,
played brilliantly here by the 28-year-old Russian cellist Dimitri Maslennikov."
New York Times, December 2008
Sabine Weyer piano
Dimitri Maslennikov cello
Two young talents perform three first sonatas: pianist Sabine Weyer and cellist Dimitri Maslennikov are among the most promising artists of their generation. They have devoted themselves to the music of Johannes Brahms and his contemporaries. Beginning with Brahms' first ever cello sonata, they then highlight the first cello sonatas written by Robert Fuchs and Heinrich von Herzogenberg, respectively. In so doing, they bring to the forefront a revealing and interesting repertoire that stands apart from the snaggy Viennesse-by-choice.
"Do you like Brahms?" This iconic question from Françoise Sagan's novel of the same name has become a winged word. But why always Brahms? Why don't we ask: Do you like Fuchs? Or: Do you like Herzogenberg?
It is true that Brahms has always served as a benchmark and was the center of a whole network of composers. The focal point: the gnarled man from Hamburg who later chose Vienna as his home, who was plagued by self-doubt throughout his life, and who was stylized into an idol for many composers – sometimes against their will. Time and time again, composers appeared in Brahms' orbit that did not actually belong there. Fuchs and Herzogenberg are two of the cases which grew in the shadow of Brahms' reputation, but who are much more than simply friends of Brahms'.
For example Robert Fuchs. In the case of this Austrian Romanticist, it was a bonmot of his composer collegue Josef Hellmesberger, who commented on the last movement of Fuchs' Fifth Seranade: "Fuchs, you stole that whole thing" – even though the piece was meant as a hommage to the "king of Waltz" Johann Strauss and was in no way a work of plagiarism. But the accusation stuck for posterity, Fuchs' bad reputation seemingly cemented. He was reduced to an epigone of Brahms'. That he is precisely the opposite can be seen in his first cello sonata op. 29. Brahms was full of praise for this master piece, in which Fuchs proves himself as a shrewd, mature composer with a tendency to quite individualistic musical solutions. But prosperity weaved no garlands for Fuchs.
Heinrich von Herzogenberg, as a friend of Brahms', was likewise working in the orbit of this musical titan, and with many of his works, emerged from it. Brahms felt great appreciation for Herzogenberg's works, which don't have to hide behind those of his contemporaries. But for Herzogenberg, too, his closeness to Brahms was to some degree his undoing. Herzogenberg's first cello sonata op. 52 shows his originality, for example in the second movement, a lyrical adagio which brilliantly changes from minor to major key. The immediate comparison to Brahms' fulminant first sonata shows: it doesn't always have to be the same. Although…
The three romantic sonata-firsts are performed by pianist Sabine Weyer and cellist Dimitri Maslennikov – two young musicians whose names should be remembered. Weyer, who has been described as "one of the most important young pianists today," shows a strong musical personality which is marked by an enormous sensibility and deep curiosity for lesser known jewels of the musical repertoire. Weyer, who studied under Aleksandar Madzar, Rustem Hayroudinoff, Paul Badura-Skoda, and others, regularly surprises her audiences with uncommon programs. Her latest recording of piano works by Nikolai Miaskovsky and Nicolas Bacri has been very well received in the media. Her discography has earned several awards. Weyer performs in the most renown concert halls around the globe, regularly receives invitations to international festivals, and plays con-certs with orchestras like the Nordwest-deutsche Philharmonie, Ukranian National Philharmonics, or Nuove Musiche. As a chamber music partner, she has performed concerts with Aleksey Semenenko, Pavel Vernikov, Yury Revich, and others. Since 2015, Sabine Weyer also works as professor for piano at the Conservatoire de la Ville de Luxembourg, thereby fulfilling her dream of passing down musical know-ledge to younger generations.
Dimitri Maslennikov began his music studies at the age of five. When he was eleven years old, he won the international soloist competition in Moscow and the Czech international competition in Prague. He also received awards at the Tchaikovsky Competition and the Rostropovich Competition. When he was 14, he received a three-year fellowship provided by the French government to support his studies at the Paris Conservatory, where he also won a first prize. Dimitri Maslennikov has performed with renown orchestras and was mentored by Maestro Christoph Eschen-bach. After several concerts around the world, Dimitri Maslennikov recorded Tchaikovsky's Rokoko variati-ons with the German Symphony Orchestra under the direction of Christoph Eschenbach. This recording led to his celebrated debut with the Berlin Philharmonics as well as concerts at the Schleswig Holstein and Rheingau Music Festivals.