Founded in 2015 at the University of Music and Performing Arts Graz, the Oberton String Octet has become one of the most sought-after young ensembles in Europe through their dynamic performances and savvy programming. Driven by a desire to promote "unity through music", the group has performed at various international festivals and charity events, held regular workshops for schools to cultivate an appreciation for classical music, and arranged and performed multiple popular and traditional melodies from around the world. I recently sat down with OSO's leader, Jevgenijs Cepoveckis, to discuss the inner workings of the group as well as his perspective on making it as a young musician.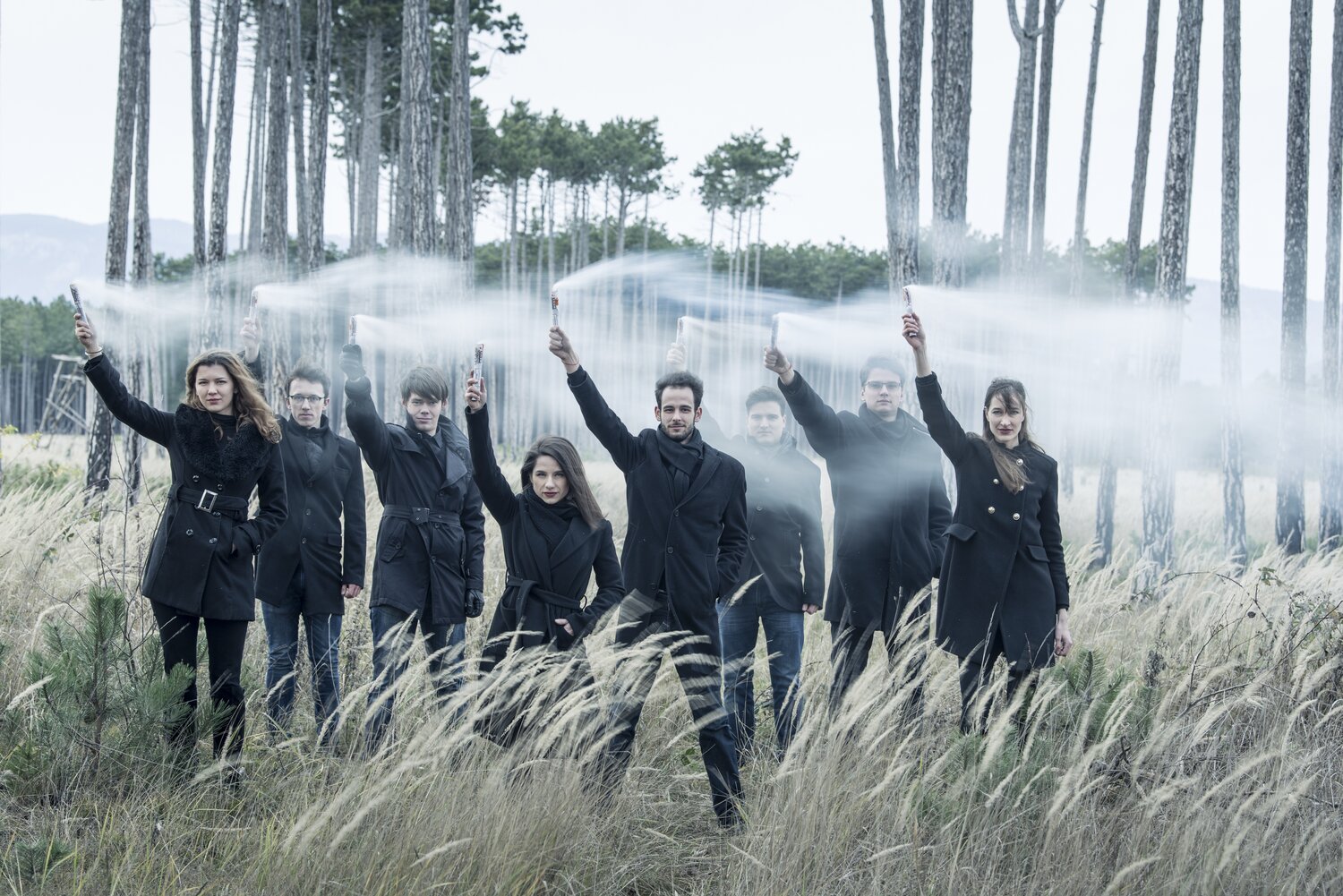 Photo: Christian Jungwirth
When did you develop your interest in chamber music?
I started playing chamber music relatively late. I was concentrating on playing alone because of my program and my professor at school, so at first I didn't take chamber music so seriously, but my attitude changed very quickly after playing chamber music a couple times. I realised that it can actually be way more complicated and serious than playing alone. When I'm playing alone, I usually understand what my aim is and how to achieve it. With chamber music, there are so many different approaches depending on the people and instruments involved, and every combination has its own approach.
How did OSO come about and how has it evolved throughout the years?
When I first started the group five years ago, I actually wasn't trying to create something that would last. We had to do chamber music for credit at our conservatory and I wanted to play exactly one piece, the Mendelssohn String Octet. Only the first movement, by the way, not the whole piece (laugh). And after we had our first lesson with our professor, he suggested that we try performing the piece and said that he could give us some performance opportunities—because there are many people who just show up for their lessons and after one or two semesters they get their credit points and that's it. He said that if we were okay with performing it, we would have to learn all the movements, and that's basically how it started.
When did you realise that OSO would become such a big part of your career?
Probably after two years. For the first year of us being a group, we were mostly just doing university activities and our only aim was to prepare for concerts. Suddenly, we started getting more and more opportunities, and during our second year we got our first big engagement in the Musikverein in Graz. We reorganised our lives around performing and preparing the program for this big concert, and that's when I realised that working on this project had become such an important part of my life. It was so important to me that I put aside a lot of my personal career for three or four years because I was so focused on creating a good foundation for the octet. Now that our plans are more or less stable, I have more time for myself, even though I still find that when I practice my mind is still organizing something for the group!
OSO has covered a lot of genres, from Baroque clerical music to Game of Thrones covers. What made you decide to expand OSO's repertoire in so many directions?
As our group continued to develop, we realised that there aren't as many pieces for string octet as there are for other ensembles, so we decided to try and arrange some pieces ourselves. The first thing we arranged was a tango by Piazzolla, and it worked so well on stage that we decided to continue arranging more pieces. I've done so much research on the string octet genre by now that I know every piece that's been composed for this ensemble, and there's actually a lot of them, they're just not so famous. I think it's because organizations find that it takes a lot more time and effort to get eight people together and finance it! We also thought, why not try and accompany soloists like a small string orchestra? We now have a project like this called Oberton+. I've played Four Seasons with them, and some other soloists have performed piano and cello concertos with us. Our main goal was just to not feel limited, and now it's the opposite—we can do basically anything! No other type of ensemble could do so many things, and I'm so happy about what we've done.
What does OSO's rehearsal schedule look like?
It really depends on the project, but we plan it well ahead of time. It doesn't work for us to meet every week because there's too many people, so we do it more in sections. We might not meet for a while and then spend a couple of days in a row together, working from morning until night with a few breaks. We also write to each other all the time even when we can't meet regularly.
How have your plans changed due to COVID-19?
We actually couldn't rehearse for a while because some of our members were abroad at the time the borders closed, so we only started rehearsing again this month. It's quite sad because we had a lot of concerts planned and were really hoping to promote our new album. Now we just have a lot of copies sitting in boxes in our flats, waiting for better times! The situation here in Austria is that the concert halls have been reopened but we are only allowed to play for a hundred people at a time—which feels like nothing—so we've been performing the same program multiple times in one day. It's fun to try and figure out solutions, but the reopening has made things more complicated than it was when everything was canceled. We were also going to perform six or seven times at the local festival in Austria, since we are the ensemble in residence, and now we can only perform three times. On a personal level, I was supposed to take part in some competitions, but many have been completely canceled and I'm not such a big fan of online competitions.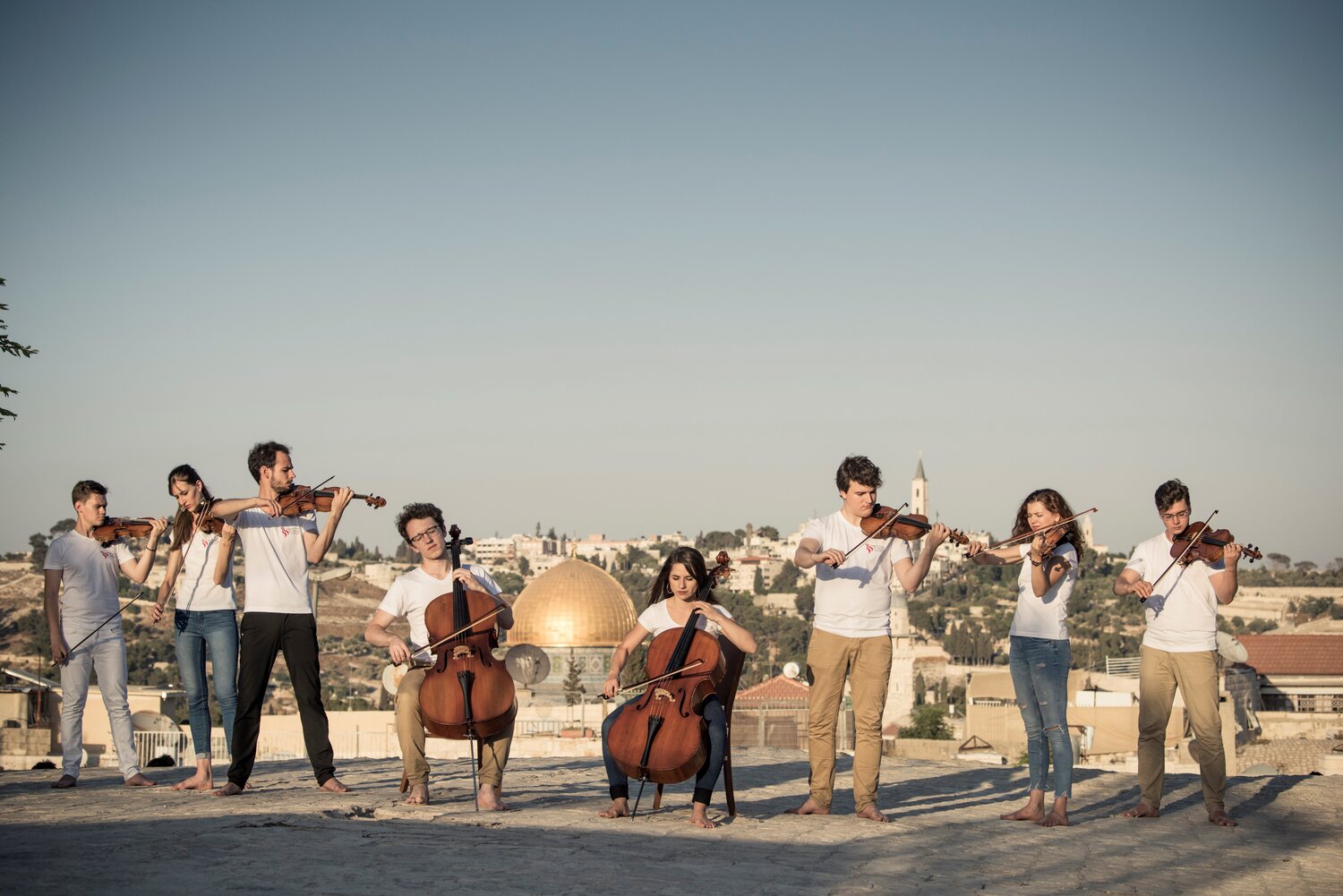 Photo: Christian Jungwirth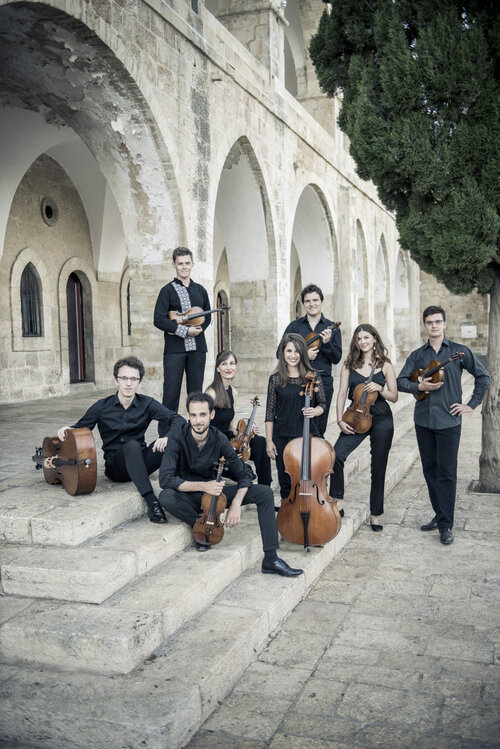 Photo: Christian Jungwirth
What do you do to bond with each other outside of rehearsal?
We sometimes leave one evening for a party or to do something fun like switching instruments and playing the pieces we know. If we're on tour, we might also go sight-seeing together, even though it's hard because we each have a lot of different interests. We always try to figure something out because we're like a big society, so if we manage to do something together it'll feel special.
What are some of your favorite memories from going on tour with OSO?
The tour we did of Latvia this year was very special to me because it was in my country and I organised a lot of what we did on the tour. My parents got to finally meet the group they had been following for years on Facebook! The performances were very special as well because I also knew a lot of the people that came to our concerts. We also went to Jerusalem last summer to attend a festival and to Russia a couple years ago, where we had a lot of diverse and interesting experiences.
What is your favourite festival you've attended as a member of OSO?
I would say that's our home festival here because we have the opportunity to collaborate quite closely with the organisers and develop our position as an ensemble in residence. Our involvement is really developing every year because last year we tried a few things and this year should be even better. We had planned a lot of concerts with different programs and different locations, even though unfortunately half of them were canceled.
OSO has organised a lot of educational projects for children as part of your charity work. What was this experience like?
We regularly hold workshops in both specialist music schools and regular schools. We talk about what we do and play games, or maybe set challenges for the children and do some music literature quizzes. This is a really interesting part of what we do—and it's completely different, so I have to switch my mindset. It's more like teaching than playing a concert, which is really fun for us.
What advice would you give to young musicians who are thinking of specialising in chamber music?
My point of view is that you need to do something different from what everyone else is doing. It sounds too easy and too complicated at the same time. If you decide that you love playing in a quartet, you have to think about the fact that there are thousands of quartets in the world. If you do it just because you love it and it's just an activity for you, that's fine, but if you want to build a career out of that you need to consider the what, why, and how of making it work. There are a lot of people who just want to do something, and they don't know what, and then they get disappointed. My advice would be to do some research of how things work, maybe check the biographies of successful groups.
Do you have any advice for improving focus in the practice room?
Switch off your phone. You can try to make yourself get in the right mood for practicing, but for me sometimes that works and sometimes it doesn't. Turning off your phone works because that's a physical action you can take.
What's the last thing you do before you go onstage?
I wash my hands. It might sound funny, but for me it's important because my hands are how I connect with my instrument. I don't want there to be any dirt or sweat in between. Actually, it's probably helpful for the coronavirus situation because they say you should always wash your hands, but I'm already used to doing that all my life. Maybe that comes from my parents because my mother is a doctor, but it's just a kind of reflex to come home and wash my hands, and wash them again before eating, and again before practicing. So if I'm warming up and someone comes to tell me that I have two minutes left, the last thing I do is wash my hands once more.
Is there anything you think conservatories could do better to prepare their students for a career in music?
I was actually thinking about this recently. I think that they could concentrate more on showing students the real world and how the music industry works. A lot of young students have absolutely no idea when they arrive at university and the university doesn't provide this knowledge, and then they graduate and have absolutely no idea what to do. It's like oh, they have a diploma now? That's a musician! They're ready for life! (laugh) I think that the music education system needs to think about that and provide some knowledge of what the different pathways are after graduating.
What other things?
I was actually thinking about this recently. I think that they could concentrate more on showing students the real world and how the music industry works. A lot of young students have absolutely no idea when they arrive at university and the university doesn't provide this knowledge, and then they graduate and have absolutely no idea what to do. It's like oh, they have a diploma now? That's a musician! They're ready for life! (laugh) I think that the music education system needs to think about that and provide some knowledge of what the different pathways are after graduating.
What do you think is the biggest misconception that people have about what life as a
musician will look like once they are done with conservatory?
Even though a lot of people know how to practice to achieve a certain level, they often don't understand how to get onstage and perform, and even then they have no clue what it costs—not financially, but physically. We have these recordings and we watch them and it looks like everything is so perfect and wonderful, but it's not like that. There are a lot of outstanding musicians who could build an amazing career as a soloist but they cannot physically perform every day because they are too nervous or tired. When you start to travel and perform, you realise that everything depends on how much you sleep, where you sleep, what you eat, how you're traveling…
After I started doing this, I realised that more concerts is not always better. There are many cases when you have to just cancel or refuse an offer, even when there's an empty space in your calendar, because you know that you won't be able to play the way you want. I don't know exactly how you would provide this information as a university because you probably cannot just teach this in a lecture, but this information should still be provided. Maybe. Maybe not.
Interview: ©Jordan Hadrill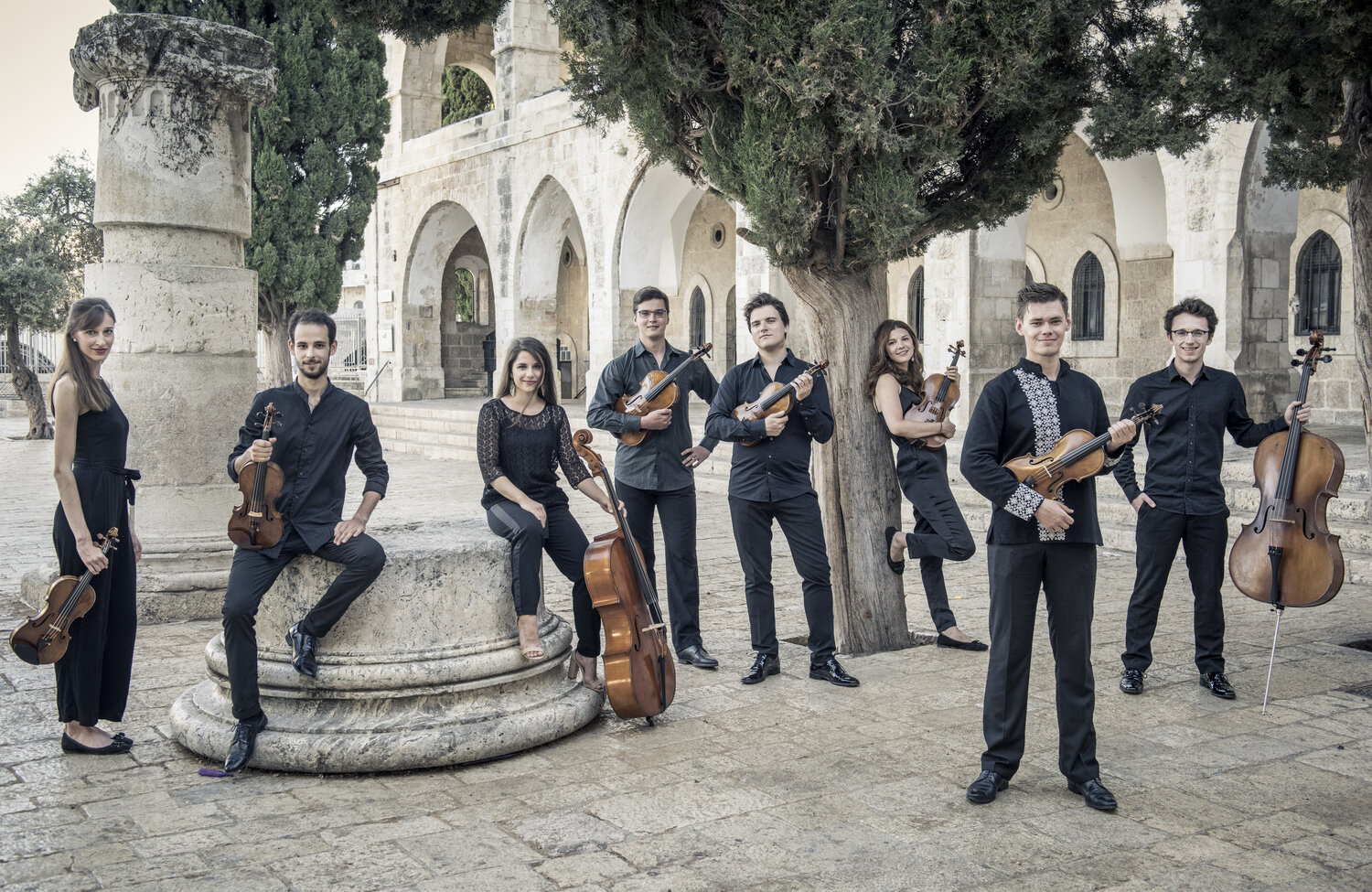 Photo: Christian Jungwirth