"Lucid musical expression and liberty are Nuno Côrte-Real's characteristic elements. His goal is to find a musical equilibrium."
online merker
"Tremor" means shivering or quaking. The Great Lisbon Earthquake forms the central theme in this new song cycle written by Nuno Côrte-Real for female vocals, choir, and instrumental accompaniment. The soprano singer Bárbara Barradas performs with Nuno Côrte-Real's own Ensemble Darcos under the composer's direction. It is a matter of aesthetic reflection from various perspectives. Remembering one of the greatest natural catastrophes of European history is thus turned into a project for the present day.
On November 1, 1755, three earthquakes, followed by a large blaze and finally several tsunami waves, reduced more than just the Portuguese capital to rubble. In addition to the 100.000 fatalities in Lisbon alone, the extreme seismic shocks originating in the Atlantic caused many more deaths, especially in North Africa.
The rebuilding of Lisbon happened fast. Importantly, the earthquake shocked and changed people's previous conception of the world. Can such monstrous human catastrophes really be in the interests of the creator? In our contemporary time, new questions arise: How omnipotent is humanity when it comes to our mastery over natural forces on this planet? 
"Tremor is not trying to tell a specific story or describe a certain character. Rather, it is an almost abstract exercise of varying moods arising out of words and images based on historical documents and recorded experiences of people back then." This is how the musicians formulate their intention behind this new project. It is about the lyrical idealizations of existential questions, human fears, but also hopes in an extreme situation. 
To do this objective justice, Nuno Côrte-Real draws on his own artistic language. In it, elements from older music and traditional styles are placed into a lively discourse with musical ideas from the current moment. The high art of Nuno Côrte-Real lies in his ability to create, out of such contrasting material, a contemporary view on the most cataclysmic event in the history of his native city.
Nuno Côrte-Real 
Nuno Côrte-Real was born in Lisbon in 1971 and is one of the most prominent Portuguese composers of the present. His compositions are regularly performed on international concert stages, such as the "Seven Dances for the Harpist's Death" at the Kleine Zaal of the Concertgebouw in Amsterdam, the "Little Sea Songs" in the Purcel Room in London, the "Concerto Vedras" in the St. Peter's Episcopal Church in New York, the "Nova Cancioneira" during the Siglufirdi Festival in Reykjavik or the "Andarilhos" dance music in the Casa da Música in Oporto. The wide range of his discography spans from national and internationally published albums in various musical genres to chamber music and choir music to symphonies and operas. In the scenic world, Nuno Côrte-Real has worked together with leading names in opera, theater, literature, and film. The founding of the Ensemble Darcos resulted out of his wish for a tailor-made body of sound for his own musical ideas.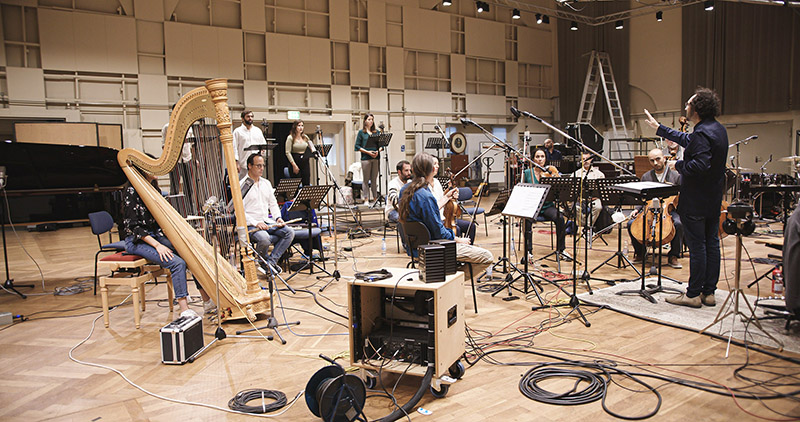 Ensemble Darcos 
Founded in 2002, the Ensemble Darcos is one of the most renown Portuguese chamber music groups and performs in a variety of line-ups – including the typical 19th century formation with fifteen musicians. The ensemble regularly invites internationally prominent guests, such as cellist Mats Lidström, violinist Massimo Spadano, Giulio Plotino and Junko Naito, pianist António Rosado, violist Ana Bela Chaves or percussionist Miquel Bernat. The ensemble receives a lot of recognition for its lyrical program featuring some of Portugal's most important singers, among them Eduarda Melo, Luís Rodrigues, Dora Rodrigues, Lara Martins or Job Tomé.
Pedro Mexia 
Pedro Mexia is one of the authors for the song texts in this cycle. He is a literary critic and columnist, as well as a consultant for cultural affairs to the president of the Portuguese republic and an author of TV programs. He publishes poem and essay collections, journals, and column collections, some of which are also published in Brazil. He has translated Robert Bresson, Tom Stoppard, Hugo Williams, Martin Crimp and David Mamet. In 2015 and 2016, he served on the jury of the Camões prize, one of the most important literature prizes in the Portuguese language.
Bárbara Barradas 
Bárbara Barradas is a lyrical coloratura soprano. She has a promising international career reaching beyond the most important opera stages in Portugal. Already at the young age of nine, she entered the national conservatory for music, where she studied for twelve years. Her teachers include José Carlos Xavier. When she was 20, she was awarded a stipend by the Gulbenkian Foundation, allowing her to study at the Guildhall School of Music and Drama under Susan Waters. She was part of the Flandres Opera Studio. She participated at the Wales International Academy of Voice, directed by Dennis O'Neill and sponsored by Kiri Te Kanawa. She is a student of Professor Lúcia Lemos and Paula Anglin and has completed countless master classes. Likewise, she has won many international prizes, like the Donizetti price for her performance as Lucia at the Grandi Voci competition in Salzburg.