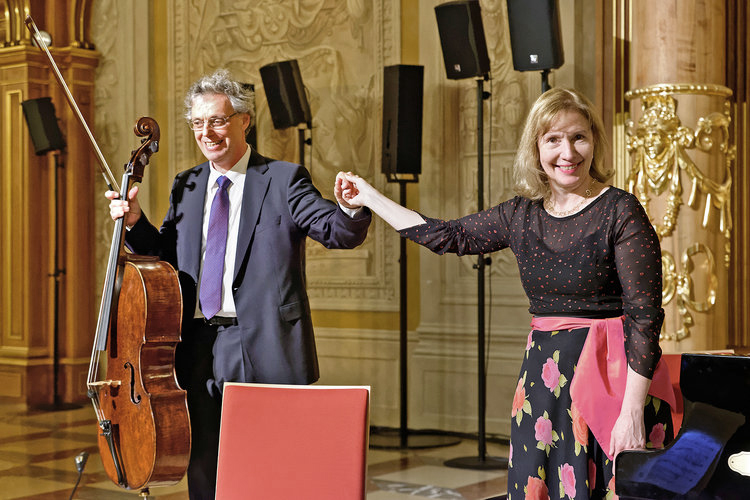 Photo: Klaus Satzinger-Viel
Ludwig van Beethoven, whose 250th birthday is being celebrated by the entire classical music world this year, was a visionary and border crosser. With his music for piano and violoncello, he not only founded a new genre; he also succeeded in drawing attention to the tonal qualities of the stringed instrument, which subsequently established itself more and more as a solo instrument. Beethoven's duo works for piano and cello have accompanied him for almost his entire musical life – and thus provide a deep insight into his artistic and human development.
In the course of the Beethoven celebrations, Margarita Höhenrieder and Julius Berger joined the circle of congratulators and recorded all of his original works for piano and cello. They are audibly in the best hands with these artists: With them, two internationally distinguished, multi-award-winning personalities have come together who have shaped the art music landscape like few others, both as performers and as teachers. For them, Beethoven is one of the household gods, and they have been occupied with his work all their lives:
"We climb a steep path, in order to approach Beethoven more closely. The summit of this path is visible, but not attainable. That is why we keep returning to this path, endless as it is."
For centuries, the Middle Kingdom has exerted a great fascination on the western world with its traditional culture, artistic painting, writing and harmonious gardens. Even music has not remained unaffected by this chinoiserie – especially in times of national music and exoticism in the 19th and 20th centuries, when Debussy, for example, was tonally drawn ever further east. For composers such as Walter Niemann and Cyril Scott, however, it was not the reproduction of authentic and genuine themes that counted; their aim was rather to evoke foreign and imaginative mood pictures. They were both committed to Impressionism as well as to the music of other cultures, as in Scott's Lotus Land or Niemann's 'Five Dream Poems' of the piano suite Alt-China, in the preface of which it is stated: "The composer has […] in a dream made a journey to China. What he tells us about it in the following is intended […] to be Chinese only in so far as it reproduce the delicate, exotic, fairy-tale atmosphere of the Far East, occasionally coloured with the primitive element in music. He does not demand: You must believe me, because I am a Chinese, but he asks: believe me, when I, a German, dream myself away to China with you."
There is hardly any genre in which Ludwig van Beethoven did not set binding standards for following generations of composers, hardly any creation that would not meet the highest demands of a piece of art. The sonatas for piano and violoncello, with which he established this genre in the first place, can be regarded as one of his lasting achievements. His complete works for both instruments originate from a period of more than 20 years: beginning with the first compositions written in 1796 after his stay in Berlin, in which the classical sonata form was used for this duo formation for the first time; through the perfect balance in the treatment of both instruments in the A major Sonata Op. 69; up to the two sonatas Op. 102 from the year 1815 that were to herald Beethoven's mystical late style and, as the Allgemeine Musikalische Zeitung commented, "certainly belong to the most unusual and most peculiar that has been written for a long time […], not only in this form, but also in general."
Beethoven's works for piano and violoncello thus pass through all of the composer's creative periods and reflect his development as an artist and human being. They bear witness not only to how Beethoven lifted the cello from the shadow of an accompanying instrument and gave it a prominent voice, but also how he continually reinvented the sonata for piano and cello. – This joy of experimentation ultimately formed the starting point for the "discovery of the cello in Romanticism", as Alfred Einstein put it, which was to be followed in the 19th and 20th centuries by numerous chamber music and concertante works of the most varied shades.
Margarita Höhenrieder – a multiple awarded musician and 1st prize winner of the renowned Busoni-Competition 1981 – enjoys a high reputation especially among experts and is regarded as an exceptional pianistic phenomenon. Her mastery is documented on numerous CDs, most recently with works by Clara and Robert Schumann (Solo Musica), which she recorded on a historic Pleyel grand piano. Among her long-standing artistic partners is Julius Berger, whom the Allgemeine Zeitung called "a prophet of the cello" after his second recording of Bach's Cello Suites. Berger devotes himself with devotion to the research of unknown cello works and at the same time he stands out for his great engagement for contemporary music – more than twenty works have been dedicated to him, premiered and recorded by him.