On a treasure hunt: Hardly any chamber ensemble has made such a contribution to the genesis of its profession with such verve, flair and interpretive mastery as the casalQuartett. In addition to the core repertoire and contemporary music, the multiple award-winning Swiss ensemble consistently shines with valuable discoveries. Not least with its two last projects – the five-part production Beethoven's World 1799–1851 and Ballads & Quintets, which it recorded together with the composer and pianist Fazıl Say – the cQ has proven that it is "one of the best formations in the German-speaking world" (Klassik Heute).
On her album DREAMLOVER, Albena Petrovic merges compositions from a variety of contexts into one comprehensive dramaturgy. United in one program, her compositions create a minimalist, declamatory gestus which is typical for Petrovic's music. The "building blocks" she uses are eclectic: The opening consists of a concert for baritone sax, here in a version that also includes piano, a certainly contemporary-feeling future dystopia. The first part of "Before the Winter" functions as a stand-in for the impending catastrophe – in this case followed by a "Lacrimae."
With its most recent project ReDiscovered, the cQ dedicates itself to the Viennese composer Anton Eberl (1765–1807) and his three String Quartets Op. 13. As an outstanding pianist and composer, Eberl achieved great popularity and at times even enjoyed more prominent supporters than Beethoven. His life ended unexpectedly at the zenith of his success. Eberl's music often surprises with its modernity and a personal style independent of his famous contemporaries. Just like Mozart's late works and those of the new Beethoven, Eberl's compositions augur for the revolutionary dawn of the expressive worlds of Romanticism.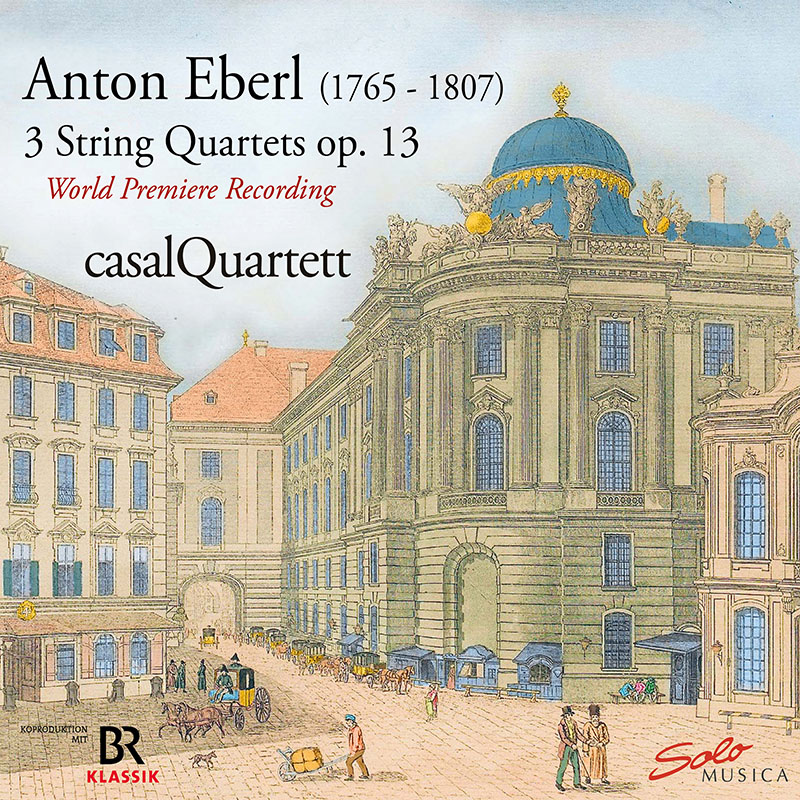 NO-TE: Who was Anton Eberl and why does he need to be "ReDiscovered"?
cQ: Anton Eberl was one of the most distinguished pianists of his time and an outstanding composer of piano works and symphonies. In this way, he even challenged Beethoven's fame, winning, for example, in the competition for public acclaim of his Symphony No. 3 and that third by Beethoven, the Eroica, which were performed at the same time. To this day, his best-known works still lead a shadowy existence; his string quartets have received no attention at all in recent times.
NO-TE: How did you become aware of him?
cQ: As part of the research for our last CD project, Beethoven's World. Eberl would have fitted in perfectly, but we decided to publish his three quartets at once rather than just one and then the other two at a later date.
NO-TE: How can Eberl's work be classified from today's perspective?
cQ: In the transition between Viennese Classicism in the imprint of Haydn, especially Mozart, and early Romanticism. Despite the stylistic proximity to Mozart, under whose name even some of Eberl's works were published, and later to Beethoven, his music is unmistakably individual. It is harmonically extremely diverse and full of surprises.
NO-TE: What is the attraction of his music for you?
cQ: With Anton Eberl, we have before us a composer who is unknown not because of a lack of quality, but in our opinion mainly because he died suddenly during his meteoric rise. The quantity of masterpieces is therefore manageable, but totally worth a closer look.
NO-TE: And what fascinates you about the string quartets you have recorded?
cQ: That they challenge the quartet formation as a whole – especially the 1st violin – and make a great, extremely lasting impression in concert. People are simply thrilled by these works: they are always musically exciting, are narrative and rousing, but also melodically very charming and touching.